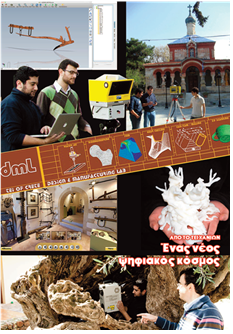 Selected publications in the press
 Patris:"The Laboratory that creates the future!",  1 Feb 2023
ekriti:"HMU laboratory "brings to life" the "Sphinx of the Naxians", 22 Gen 2023
Chaniotika Nea: "Students made Drone in 3D printer", 22 Nov 2022
Chaniotika Nea: "Treasures of the Lyceum of Greek Women in a digital showcase", Dec 2021
Municipality of Chania: «"The "11-year-old ancient Athenian" Myrtis in Chania – Exhibition: "MYRTIS – Face to face with the past", at the site of the Yali Tzami", Oct 2021
Chaniotika Nea:  "By a researcher from Chania – Technological tools for visually impaired people",  Nov 2019.
Patris : "They… also gave eyes to the blind fans",  5 Νοε 2019.
Kathimerini:  "Touching each phase on the parquet", Kathimerini Newspapper, 3 Nov 2019.
Liberal:  «The 18-year-old "Avgi" of 9000 years has gained a face», Liberal 29 Aug 2016.
Chaniotika Nea: Historical monuments "come to life", Aug 2014.
Chaniotika Nea: Innovative trap tracking system, 25 Jun 2015
Kathimerini: Myrtis, an 11-year-old girl who lived in ancient Athens "tells" her story, 8 Apr 2010.
Kathimerini Myrtis message travels the world, Kathimerini Newspapper, 3 Jun 2010.