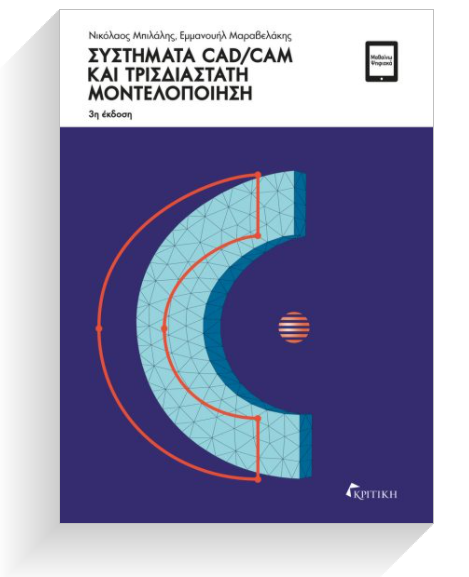 Bilalis N. and Maravelakis E., CAD/CAM Systems & Three-dimensional Modeling, 3rd edition, Kritiki Publications, Athens 2020. 
 
The book covers main topics on CAD/CAM systems, design and production technology,  and 3D modeling.
In the third edition, the material for modeling, reverse engineering and additive manufacturing has been enriched. In addition, the systems of direct solid modeling and the representation of free-form objects using modeling methods with parametric surfaces and subdivision surfaces are also covered. Reverse engineering and additive manufacturing systems have been fully updated and reflect modern developments in these cutting-edge areas.
The book is divided into thirteen main chapters and includes a plethora of figures to make the concepts that are being developed more accessible. It is not based on any specific CAD/CAM trading system, so the functions developed are available in almost all commercial systems. Each chapter includes questions to review the theory as well as right-wrong and multiple choice questions that help consolidate the material.
It is addressed both to students as well as to graduate engineers and other related specialties of technological and natural sciences who want to be informed about the application, concepts, principles of operation and the efficient use of design and production systems using a computer.
For the academic year 2020-2021, the book has been selected in a total of 41 courses from 15 universities and polytechnics in the country.